Q. Are you insured?
A. Yes we are fully insured with public liability insurance.
Q. Do you have a height restriction? Are any trees too tall to work on?
A. No height restriction. We can use a cherry picker if required or we have professional arborists who can climb the trees in order to remove/trim safely.
Does a quote / inspection cost?
A. No, Irwin Clements Tree Service provides FREE, no obligation quotes.
Q. Do you give pensioner discounts?
A. Yes, all pensioners receive 10% off.
Q. How do I know if I need council approval to do tree work
A. Call to arrange a free quote and then upon inspection you will be informed whether council approval is necessary. But don't worry; council approval doesn't often take very long to attain.
Q. Do you remove stumps?
A. Yes! We use a stump grinder to grind the stump just below ground level. Poisoning stumps could also be helpful if the stump is inaccessible.
Q. Do I need to be home when a quote is given?
A. It's not necessary that you are, however we would need clear directions as to what you are looking at having done. Once the inspection is complete then contact would be made to discuss the quote in full
Q. Can I keep my wood for firewood?
A. Yes, this can be arranged when you are provided with a free quote. There is no extra cost to keep the wood. If you need the wood cut up into fire wood size, this too should be discussed when the quote is taking place
Q. Can I keep the mulch?
A. Yes, all mulch can be kept. This can be arranged when the quote takes place. We will unload the mulch in an accessible spot/area.
Q. Payment Options?
A. Cash, cheque, electronic transfer/direct debit & we now accept credit card over the phone (surcharge applies).
Q. Do you sell wood chips?
A. Yes and a free quote is given to anyone interested in purchasing them.
Q. What should I look for when hiring a tree company?
A. Before hiring a tree company, ask for proof of current and valid certificates of public liability insurance. Also, be sure to get a written quote, so there are no surprises
Q. How much does it cost to cut down a tree?
A. Only an estimate could be given if trying to quote over the phone without seeing the tree. The price is based on the size of the tree, method of removal (climb/cherry picker), location of the tree and its accessibility, just to name a few. That is why we provide free, no obligation quotes, which can take place onsite at a convenient time
Q. Why should I have my tree stumps ground? What is a stump grinder?
A. A stump grinder is a machine that has a cutter wheel specifically manufactured to grind a stump and its root flares into mulch-like fibre.
Some benefits are:
Aesthetics – stumps are unsightly
Utilization – removing a stump will allow you to use that space
Safety – no more tripping over the stumps
Maintenance – no need to mow around them again
Don't see the answer you were looking for?
Ask us the question directly via email using the form below!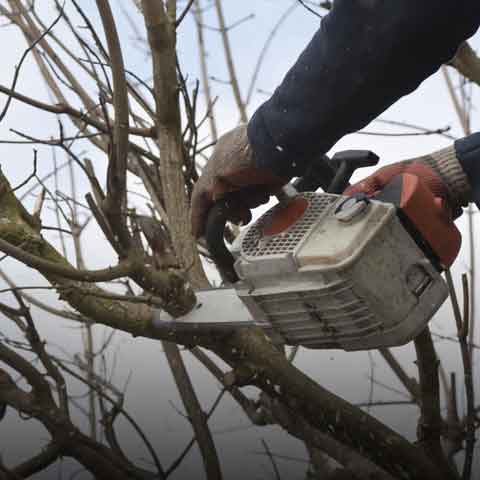 Friendly Hobart Tree Services.
Lifetime Warranty
Lifetime Workmanship warranty on all works completed.
Quality Work
Fully Insured, Licensed and Professional
Instant Systems
Instant paperless: Invoicing, Eftpos payments, Paypal and credit card etc.
Trusted and Reviewed
Consistent Volume of Reviews from customers everyday
Trusted, Reliable, and Experienced
Get a
Quick Quote
Complete the form below, then click 'SUBMIT', and your friendly Irwin Clements team will be in touch with you ASAP.